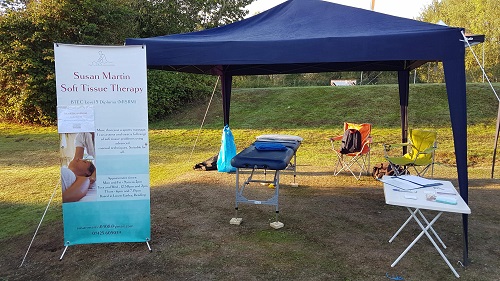 The aim of my Sports Massage is to both optimise your performance as an athlete and to prevent, as well as treat, your sports related injuries. Elite athletes look after their bodies with regular Soft Tissue Therapy treatments so why shouldn't you?
Having over 30 years' experience of sports performance and coaching with local, Reading, clubs in Triathlon and Swimming means that I understand the stresses that balancing your work, training and home life puts upon your body.
Regular massage has been shown to accelerate recovery after training by improving blood and nutrient flow to your muscles and reducing Delayed Onset Muscle Soreness. Soft Tissue Therapy techniques can also increase your flexibility and range of movement which will enable you to train more effectively and reduce the likelihood of injury.
I will work with you throughout your training cycle as well as pre and post event to keep your muscles in tip top condition. If necessary, I am also trained to use Kinesiology tape which gives extra support and can enable you to train or race after minor injuries. A 30 minute pre or post event massage costs just £35, although most athletes opt for longer sessions so I can assess and treat them according to their needs.
Those of my clients that regularly use sports massage to enhance their training can enjoy a generous discount through the purchase of multi treatment packages. Details of these packages can be found on my Prices page.
Here are a couple of reviews from regular visitors, there are more comments on my Reviews page:
"My husband and I first came to see Susan during her training and have continued with her since she qualified. We find her to be very personable and she has helped us through a number of sporting challenges. I would definitely recommend a visit"
"I have been visiting Susan regularly for some months for Sports massage and I would recommend her highly. She is professional and knowledgeable and I am grateful for her help."
When you are ready, please contact me so we can talk about how I can help you.