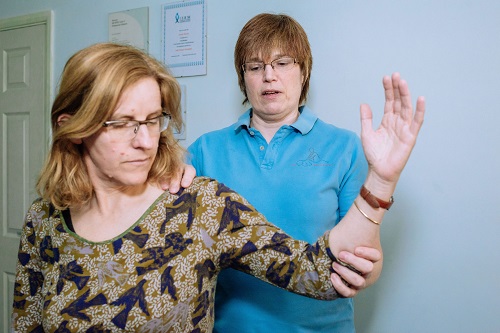 As a Soft Tissue Therapist, I can treat your muscles, ligaments, tendons and connective fascia in order to remove your aches and pains and enhance your health and wellbeing. This treatment helps to counter the effects of a modern lifestyle and is suitable for all of us who want to remain active and healthy.
After a short assessment, I will use a combination of deep tissue massage and assisted stretching techniques to release muscle tensions. I may also give you some remedial exercises to do at home which will compliment your treatment. You should allow for a 75 minute first appointment which currently costs £60.
It is likely that you will need a number of appointments to rectify any in-built issues and re-balance your body. Most Lifestyle – driven pain is caused by lack of movement, incorrect posture or repetitive strain and these take time to heal whilst new habits are formed.
A multi – treatment discount is available to regular clients. Details of these discount packages can be found on my Prices page.
The hands – on methods involved in Soft Tissue Therapy have been shown to relax your muscles, reduce stress, improve range of movement at joints, lower blood pressure and promote better sleep quality.
Soft Tissue Therapy can help if any of the following apply to you:
Aches in your back or neck due to being seated all day
Recovering from an injury
Cycling or walking to work
Tight and tired muscles from housework, childcare or manual labour
On your feet all day
Wanting to improve your flexibility or strength
"Susan put me at ease and explained what her massage would entail. She quickly identified the problem areas and tackled them, leaving my shoulders feeling much more relaxed. She also gave me advice on improving my posture through simple exercises and some workstation modification ideas. Great session."